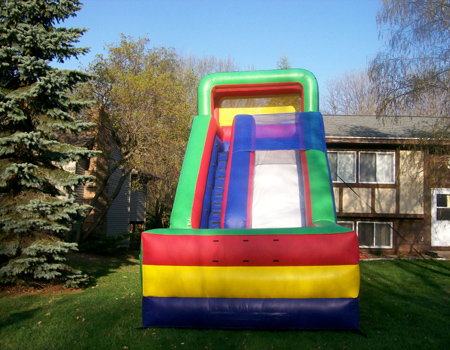 As one of the most popular rented games, this giant slide holds its ground as the most versatile! The shear size and presence of this inflatable will make a lasting impression on your party guests. This giant slide will provide hours of unlimited fun for hundreds of people of all ages. Kids as well as adults can participate at the same time. After climbing the cargo get ready for a monstrous slide!
All day rentals (weekdays or weekends) $250.00 plus tax (No 1/2 day rentals)

Monday-Thursday Special:
5:00-8:00 $200.00* plus tax

*5:00-8:00 specials are available for Monday-Thursday rentals in Plymouth, Maple Grove, Crystal, Golden Valley, New Hope and Medicine Lake only. All day rental rates apply if are located outside of this area or for hours outside of 5:00-8:00. Specials not available on holidays and National night out.
To place an order Click here Please allow 24 hours for us to respond via email. If you want an immediate response please call 763-238-3835. Thank you!