Happy Dragon

16(W) X 16(L) X 18(H)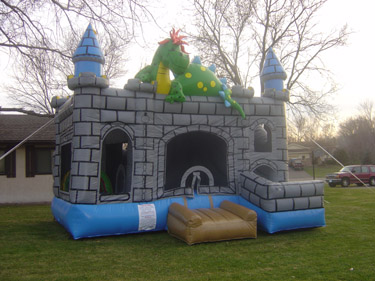 This unit has 4 activities in one! Your kids will have a great time bouncing, sliding, climbing and running the obstacle course. It is approximately 19 ft by 17 ft (including the entrance ramp and exit area of the slide).
All day rentals (weekdays or weekends) $300.00 plus tax (No 1/2 day rentals)

Monday-Thursday Special:
5:00-8:00 $230.00* plus tax

*5:00-8:00 specials are available for Monday-Thursday rentals in Plymouth, Maple Grove, Crystal, Golden Valley, New Hope and Medicine Lake only. All day rental rates apply if are located outside of this area or for hours outside of 5:00-8:00. Specials not available on holidays and National night out.
To place an order Click here Please allow 24 hours for us to respond via email. If you want an immediate response please call 763-238-3835. Thank you!